Un projet transnational entre la Finlande, la France et l'Espagne pour créer de nouveaux réseaux et amitiés entre les villages européens de ces trois pays.
Ce projet de coopération dans l'espace européen, financé par les fonds LEADER, en lien avec les habitant.e.s de l'Archipel Causse et Vallée de la Buèges a débuté par un premier voyage du 16 au 20 décembre à Malaga en compagnie du GAL Valle de Guadalhorce.
Découvrir le projet global >

JOUR 1
16 décembre / Real first meeting with good vibrations.

« A warm and gastronomic welcome from Gal Valle de Guadalhorce. Online and face-to-face artistic presentation between villagers from Spain, France and Finland.
1st visit: the Pizarra circus, a great team and superb performances (70 year old clown, rhythmic improvisation, aerial silks of all ages…)  »
Julia
JOUR 2
17 décembre / Very intense day!
« After a perfect night in a great comfort, a breakfast at our total convenience, at 9:30 am, we were guided by our guardian angels to the house of the culture. This typical Andalusian building belongs to the city council. This structure allows women who are victims of violence, especially psychological violence due to a very dominant patriarchy, to benefit from a resource place. Here, they can go to the town hall (to see the nursery for example) and meet an attentive secretary who guides them to a psychologist if they need one and to a lawyer in case of great need. In this place, it is also proposed to the women to have access to leisure activities and means of expression such as theater, yoga, pilates, painting and the transmission of know-how in embroidery, lace (here the making of one's own clothes for the Christian ceremonies is very important)
Then we went to the oil mill which is a cooperative for smallholders and also a private company. We discovered the ancestral methods of harvesting and extracting olive oil through the museum. Then we visited the cooperative with its current technology. During the visit to the museum, we also learned to recognize the quality of 3 types of olive oil by taste and smell. Afterwards we visited an organic cooperative farm where Sebastian welcomed us and made us taste delicious salads. Sebastian is passionate about nature and its protection. He works in a local network.
Then we met a cooperative partner of Sebastian who exports organic fruit and vegetables to France, Belgium and Germany. She was able to realise her dream thanks to 40% ERDF funding. She works a lot between grazing, making and selling cheese. Her motivation is to pass on a stable job to her daughter and for this she spares no energy. Magdalena made us taste these delicious cheeses. In the evening we visited Málaga in our free time and before admiring its unread market and architecture we had dinner in a very good restaurant where the food was of great delicacy. The bus driver was adorable Jessica Anna and Mila, her guardian angel. »
Clayre
JOUR 3
18 décembre / beautiful afternoon in « Valle de Abdalajis »
« Departure at 9am to discover el Caminito Del Rey, a dangerous cliffside path, with an impressive bridge crossing over the void! The King came to see this hydroelectric power station and passed on this ancient path through the mountains. After a delicious lunch, we visited Abdelajis, a beautiful little village where we were welcomed by the Mayor. He explained to us that the village has had no water from 10pm for the last 15 years because of the construction of a railway through the mountains which destroyed a water table! Crazy!
We went up to the Cristo de la sierra hermitage and the Gangarro viewpoint, great views over the valley.
We visited the church and the historical museum before having a delicious gargantuan meal with more than 10 different dishes. Thank you all for your welcome and kindness: Araceli, Manuel, Flores, Mila,… »
Emma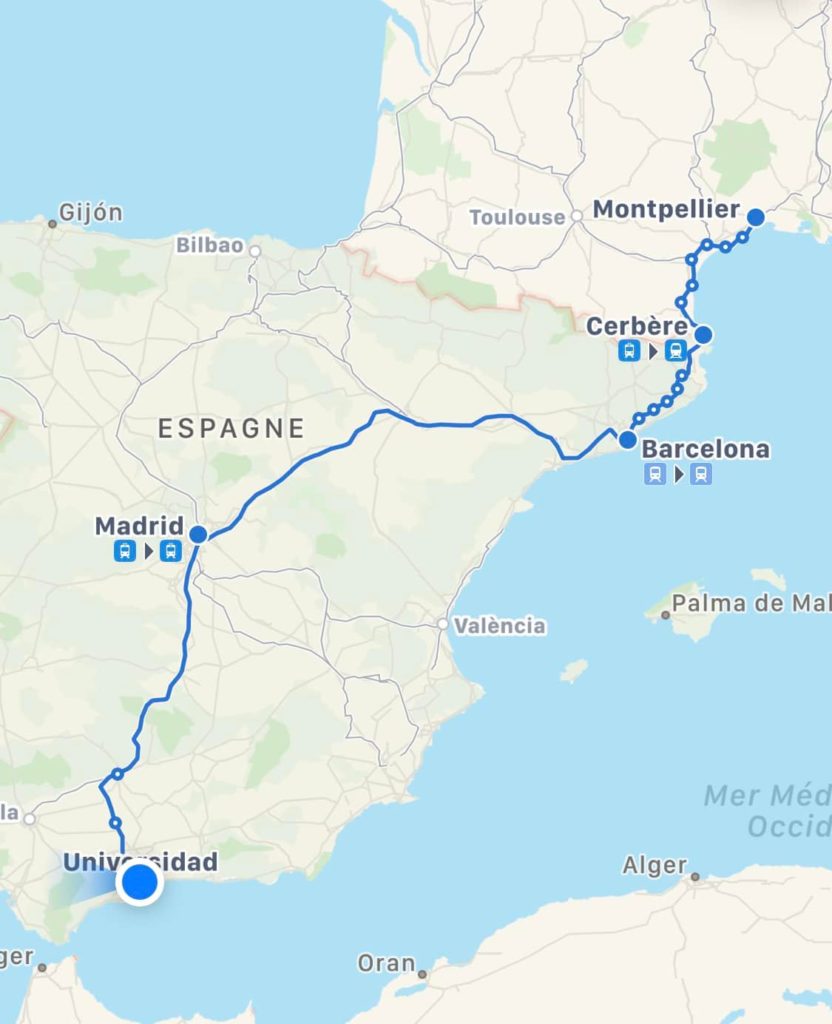 « We chose to travel from Montpellier to Malagà by train for ecological reasons.
Indeed, for more than 2,000 km travelled by train, instead of flying, we produced much less carbon emissions.
This is our small contribution to preserving the climate.
Carbon emissions per person for round trip = 0.6 tonnes, or 6 tonnes for 10 people. Carbon emission by train per person for a return trip = 0.1 ton or 1 ton for 10 people!
For your information, the 2050 climate-friendly targets are 2 tonnes of carbon per person per year. Congratulations to the whole team for choosing to travel by train! »
Audrey